Coddington Road Community Center offers afterschool care for up to 40 elementary-aged
children. The afterschool program is staffed by two group leaders and additional support staff.
Our afterschool instruction approach is based on the emerging ideas of the children. Lessons are developed around shared interests and facilitated by the group leaders. Social and emotional development is also a focus, with play encouraged between all age groups.
At Coddington, our afterschool program offers a great deal of open ended play with a focus on outdoor activity.  We provide a supervised homework time along with a variety of crafts, games and opportunities for creativity.
Optional full day programming is available at our Coddington Wild program on most school holidays.
Optional summer care available with our outdoor based Camp Coddington program throughout the summer.
General Information
Our afterschool program operates under our NYS OCFS Child Care license. Combined with our summer camp program, care is available every weekday of the year with exceptions shown on the childcare calendar. During the school year, the Ithaca School District provides transportation to our site from each of their schools.
Admission is on a first-come, first-served, space available basis. To inquire about enrollment in Coddington's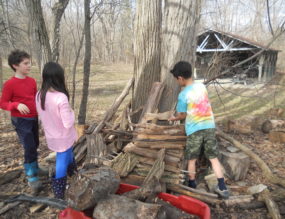 Ithaca afterschool program, please complete this online form or call the center to speak with our staff at 607-277-1434. Admission is on a space available basis. No child will be discriminated against because of race, creed, color, national origin, or sex. The enrollment process includes completion of all required paperwork and payment of a registration fee.
If you have questions or would like additional registration information, please email crcc@coddingtonroad.org
Daily Routine (2017 Schedule Coming Soon)!
2:15 –3:00 Arrival and free play.
3:00 – Snack and daily jobs. Snack is prepared by our cook, and all students take turns with post-snack clean up.
3:30 – Homework time or choice time. Students who have homework use this time for their assignments, while students without homework have quiet activity choices or engage in outdoor play.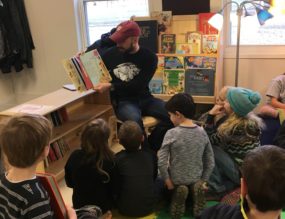 4:15 – Group activity inside or outside. Children play outdoors in fair weather. The field, woods, and playground are used for basketball, sledding, group games, walks, and trailblazing. In inclement weather, indoor activities include dancing, aerobics, and obstacle courses.
5:15 – Cool down time. Children are given the choice of relaxing activities like reading, art projects, or building materials. Teachers and children also work together to clean the room.
5:45 – Program end time.
Scholarships
Tompkins County DSS helps income-eligible working parents pay all or part of their child care fees. Call their Day Care Unit at 607-274-5219 to see if you are eligible.
Coddington Road Community Center
920 Coddington Road, Ithaca, NY 14850
Phone: 607-277-1434 | Fax: 607-277-8873
Email: crcc@coddingtonroad.org